Joint EASP & SPSP Small Group Meeting Berlin
Gender Roles in the Future? Theoretical Foundations and Future Research Directions
Samstag, 24.06.2017 - Montag, 26.06.2017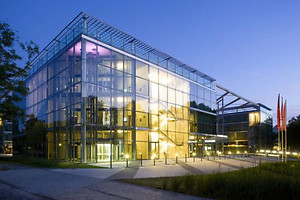 The study of gender is deservedly a major focus of research in the field of psychology broadly, as well as social psychology in particular. In 1987, Alice Eagly formulated Social Role Theory to explain gender differences in social behavior and perception. This theory became one of the pre-eminent, if not the central, theory of gender in social psychology.
Veranstaltende:
Sabine Sczesny (University of Bern, Switzerland) & Wendy Wood (University of Southern California, USA)
Redner, Rednerin:
Keynote Speaker: Alice H. Eagly (Northwestern University)
Datum:
24.06.2017 - 26.06.2017
Uhrzeit:
16:00 Uhr
Ort:
Seminaris CampusHotel
Campus der Freien Universität Berlin
Takustrasse 39
Berlin, Germany
Merkmale:
nicht öffentlich
kostenpflichtig

Scope
Over the last decade, a variety of new approaches to understanding gender differences have been developed, including gender stereotype threat, precarious manhood theory, and the steroid/peptide theory of social bonds. The ongoing interest in gender corresponds with the increasing recognition of the centrality of gender to the understanding of social behavior. The next step in gender research will be to integrate social role theory and more recent approaches to provide an extended theoretical foundation for gender research in the future.
The field is poised to develop an analysis of gender roles that builds on the integration of existing theories in new, innovative ways. The EASP small group meeting is designed to inspire the next generation of research addressing gender roles. It promises to have far-reaching impact in spurring young social psychologists studying gender to integrate across multiple levels of analysis in their theories and to incorporate scholarship from across disciplines (e.g. personality psychology, developmental psychology, educational psychology).
The meeting is scheduled for 3 days, with an opening key note lecture on gender roles by Alice H. Eagly in the afternoon after arrival (Saturday). The participants will either give talks or will present posters. The meeting will end on Monday afternoon (4 pm).
We invite Ph.D. students, post-doctoral, junior, and senior researchers to apply to participate in this EASP Small Group Meeting. Faculty participants at the meeting will each pay a 150 Euros registration fee, and students will pay 50 Euros.
Deadline for applications: February 28, 2017. All applications should include the applicant's current affiliation and position, whether they are member of the EASP as well as a 500-word abstract of any proposed presentation. Applications should be sent to Sabine Sczesny.
Program
Poster Information:
Posters should be printed in standard A0 size (84cm x 119cm / 119cm x 84cm) and can be either portrait or landscape. Each poster is allocated one poster board (147 cm high, 119 cm wide).
Travel
How to get to the venue
Seminaris CampusHotel Berlin
Takustrasse 39
14195 Berlin
http://www.seminaris.de/en/hotels/seminaris-campushotel-berlin.html
By plane
From Berlin Tegel Airport (15 km).
With public transportation it takes about 33 minutes (www.bvg.de)
Bus 109 or X9 (direction to Zoologischer Garten) to Jakob Kaiser Platz change to the metro U7 to Fehrbelliner Platz (direction to Rudow) and change to metro U3 to Dahlem Dorf (direction to Krumme Lanke)
- single Ticket AB (2.80 €)
From Schönefeld Airport (25 km) it takes about one hour (www.bvg.de)
Bus X7 (direction to Rudow) to Rudow change to the metro U7 to Fehrbelliner Platz (direction to Rathaus Spandau) change to metro U3 to Dahlem Dorf (direction to Krumme Lanke)
- single ticket Berlin ABC (3,40 €)
By train
From Berlin main station it takes about 30 to 40 minutes (www.bvg.de)
Train S-Bahn S75 (direction Westkreuz) to Zoologischer Garten change to metro U9 to Spichernstrasse (direction to Rathaus Steglitz) change to metro U3 to Dahlem Dorf (direction to Krumme Lanke)
Or: Train RE4 to Lichterfelde Ost change to Bus M11 to Dahlem Dorf
- single Ticket AB (2.80 €)